---
No.539 by Vlaicu Crișan – Proca Retractor with a very rich content! (JV)
---
Definitions:
Proca Retractor: In Retractors, White and Black retract (take back) a given number of moves (-n moves), in order to reach a position in which a forward stipulation (e.g. #1, s#1) is met. Proca is a defensive retractor. Given a choice, Black will retract those moves that avoid or delay White's goal. Black may defend by mating White through a forward move, if such an opportunity exists after one of Black's retractions. Unless otherwise specified, forward defense is the default condition of Proca retractors.(def. from StrateGems, http://strategems.net/sections/variant-definitions.html)
Circe Assassin: Like Circe, but when the rebirth square is occupied, the occupant is «assassinated» (replaced) by the captured unit.
Circe: Captured units (not Ks) reappear on their game-array squares, of the same colour in the case of pieces, on the file of capture in the case of pawns, and on the promotion square of the file of capture in the case of fairy pieces. If the rebirth square is occupied the capture is normal.
---
Romania
original – 01.05.2014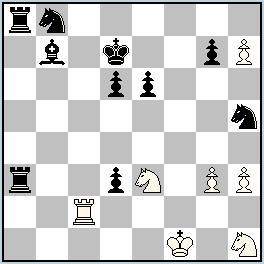 6 Proca Retractor & s#1    (7+10) (C-)
Circe Assassin
---