Original Problems (page 123)

Original fairy problems published during 2012 will participate in the informal tourney JF-2012. 

The site is mostly about fairies, but h# and s# are also welcomed for publication! Please send your problems to my e-mail: julia@juliasfairies.com
---
No.188 – Ser-h=11 by Tibor Érsek & János Mikitovics – Five surprising Rook-promotions! (JV)
---
Definitions:
Anti-Circe: After a capture the capturing piece (Ks included) must immediately be removed to its game array square (necessarily vacant, else the capture is illegal). Captures on the rebirth square are allowed. Game array squares are determined as in Circe.
---
No.188
Tibor Érsek & János Mikitovics
Hungary
original-18.12.2012
Merry Christmas 2012 and Happy New Year 2013!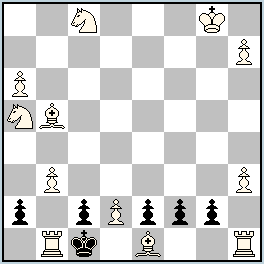 Ser-h=11                                     (12+6)

Anti-Circe
---
The diagrams are made on WinChloe and its Echecs font is used for Logo design