Original Problems (page 9)

I'll publish some of my problems here and I'd be happy to receive yours! Diagrams, comments, new ideas, anything to discuss – are very appreciated!

The site is mostly about fairies, but h# and s# are also welcome! Please send your problems to my e-mail: julia@juliasfairies.com
---
My own problem opens the page this time and I'd like to dedicate it to the all of you!
No.28 – hs#3* by Julia Vysotska – Dentist theme, playful pairs of white S+S and black R+R.
(25.06.12) There're so many comments on this page, that I've decided to publish the next original problems at the new page. Hope, it will be convenient for everybody! I appreciate all the comments here a lot! – it was really very interesting to study your ideas and suggestions!
---
–
Dedicated to all authors, visitors and commentators of this site!
–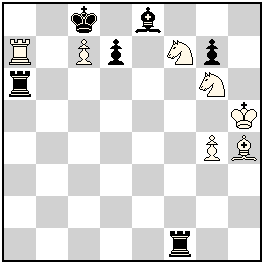 hs#3*                                         (7+6)
–
Solutions:
Set-play: 1…Ra6-a5 + 2.Sf7-g5 Rf1-f7 3.Sg6-e7 + Rf7*e7 #
Real play: 1.Bh4-g5 Rf1-h1 + 2.Sg6-h4 Ra6-g6 3.Sf7-d6 + Rg6*d6 #
–
Dentist-theme with preliminary line openings by the both white S.
Umnov-theme: the black Rooks occupy the squares left by the white Ss.
Interchange of function between two duos of pieces: black Ra6/Rf1 and white Sf7/Sg6.
Key move, which de-blocks a square and blocks other square. (Author)
---
The diagrams are made on WinChloe and its Echecs font is used for Logo design