---
No.345 by Julia Vysotska – Anti-batteries, reciprocal play of neutral PAO/NAO, Take&Make with activity of the white King and black Q! (JV)
---
Definition:
PAO(PA): Moves as Rook, but captures only by hopping over a hurdle to any square beyond.
NAO(NA): Moves as Leo, but on Nightrider-lines instead of Queen-lines.
Nightrider(N): A Rider along a straight line on squares lying a Knight`s move away from each other.
Take & Make: Having captured, a unit must immediately, as part of its move, play a non-capturing move in imitation of the captured unit from the capture-square. If no such move is available, the capture is illegal. Promotion by capture occurs only when a pawn arrives on the promotion rank as the result of a take&make move. Checks are as in normal chess: after the notional capture of the checked K, the checking unit does not move away from the K's square.
---
Latvia
original-06.07.2013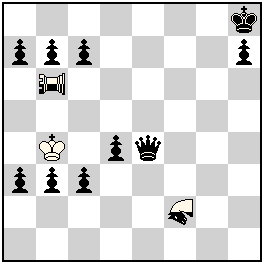 h#2,5          2 solutions        (1+10+2)
Take&Make
Neutral Pao b6; Nao f2
---