---
No.480 by Nicolas Dupont  – A difficult PG problem with a Back Home fairy condition, invented by author! The problem will participate in the Tournament for Retro and PG problems published at Julia's Fairies in 2013 – 2014.  (JV)
---
Definition sent by author:
Back-home:
a) If a piece can legally move to the square it occupied in the initial position of the problem, it must move to this back-home square.
b) Back-home moves are prevalent to the virtual capture of the opponent King by any piece, i.e. "checks are fairies".
c) If several back-home moves are legal, the side-on-move chooses which one to play.
d) The back-home square of a Pawn which is promoted during the solution is the initial square of this Pawn.
See the link https://juliasfairies.com/articles/back-home-fcondition-ndupont/  for more details on the back-home fairy condition.
---
France
original-06.01.2014
Dedicated to Jacques Dupin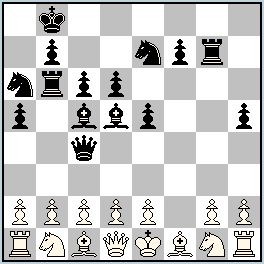 PG 21,5                                     (15+15)
Back Home 

---